It is our pleasure to invite you to join us for The Virtual 6th EAAR Annual Conference on New Medical Device Regulations (RMD2022).
At a time when digital communication is transforming every industry and every part of our daily life and work, we are committed to run an event that reaches as far as possible and fosters collaboration and engagement among its participants. The 6th edition of the Conference will be supported by a special digital platform, allowing everyone to connect, attend, while granting access to the resources provided during the conference even after its completion and you will have the opportunity to gain a better understanding of the implementation of the new European regulations on medical devices at this Sixth Conference.
This event addresses to all those involved in the medical device field worldwide, such as
Medical Device Companies

R&D and QA personnel

CEOs / CROs / CRAs

Regulatory Affairs Specialists

Research facility managers

Pharmaceutical Company representatives

Start-Up Companies
Additional regulations (implementing acts) of the Medical Device Regulation and new guidance are issued frequently adding to the complexity. It is important to keep up-to-date with the fast evolving compliance scene.
In conjunction with EAAR (European Association of Authorized Representatives), our excellent panel of experienced professionals in this field will once again ensure a conference of noteworthy quality.
Join the RMD2022 Conference and benefit from expanding your network via our sophisticated virtual conference platform through which you can enjoy Live presentations, participate in real-time live Q&A and make new contacts in the B2B area.
We look forward to welcoming you online to RMD2022 – The Virtual 6th EAAR Annual Conference on New Medical Device Regulations.
Sincerely,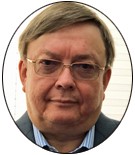 Mika Reinikainen
Conference Chair