Oliver Bisazza
Director General, Industrial Policies, Medtech Europe, Belgium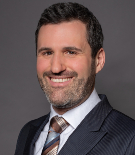 Oliver leads the Industrial Policies department, which supports MedTech Europe members in their implementation of the new and changing EU regulatory requirements, including but not limited to: legislation linked to the European Green Deal, the HTA Cooperation Regulation, in vitro Diagnostics Regulation and the Medical Devices Regulation
His team strives to facilitate 'technical implementation' of regulations in place across the EU, and to communicate the positions of the MedTech Europe membership to the European Commission, the Member States, and other relevant authorities and stakeholders.
Prior to joining MedTech Europe, he worked at Medtronic as Director of Regulatory Policy for EMEA.
In addition to this company experience, Oliver has had trade association roles in Brussels, at COCIR (the European association for the radiological, electromedical and healthcare IT industries) and at EDANA (the industry association for the nonwovens and related industries).
Oliver is a native speaker of English, and a dual national of Australia and Malta.