Anne Jury
Vice-President, Team-PRRC, UK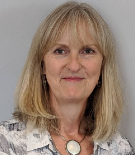 Anne Jury is a consultant and trainer in medical devices EU & UK regulatory compliance and quality assurance systems.  Starting out as company microbiologist for Smith & Nephew Textiles Anne went on to work for Notified Bodies, BSI and then TÜV Product Service as a lead auditor and later as UK Regional Manager.
Anne has run her own consultancy business since 2000 providing medical device regulatory support to companies ranging from research institutes and start-up companies to SMEs and multi-national market leaders.  Anne was one of the founders and visiting lecturers to the MSc in Medical Technology Regulatory Affairs run by TOPRA and Cranfield University where she was also external examiner from 2009 to 2012.  Anne is also a course leader for Informa Connect since 2014.
Anne is also Vice-President of Team-PRRC, a non-profit organization set up in March 2020 to support individuals in the role of PRRC under the EU medical device regulations.